Custom Roto Mold Tank
Rotational Molding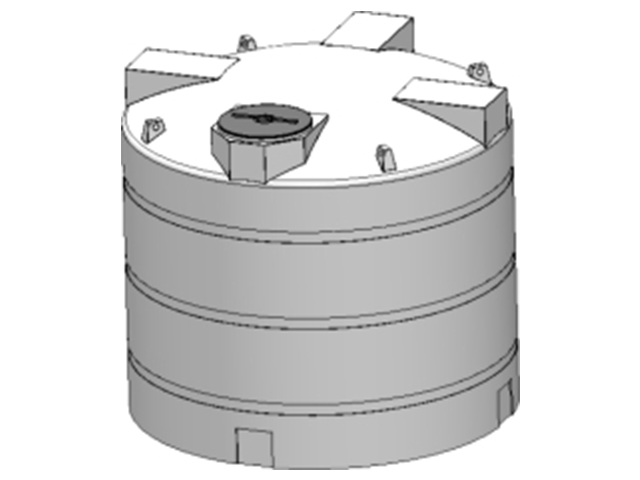 Custom roto mold tanks are a smart choice for custom residential, commercial, agricultural and industrial applications. Exceptionally strong and durable, rotational molding provides a seamless, one-piece tank with options for different textures and surfaces. This plastic tank fabrication provides tough, sturdy tanks made for your specific site or project.
Our innovative rotational molding process creates corrosion and chemicals resistant tanks. Manufactured with a smooth seamless finish, rotational molding gives you a custom, economical choice for tough, long-lasting liquid storage. Custom roto mold tanks provide flexibility, so your tank is exactly the size and shape you need. Speak with one of our team members to learn more about the advantages of custom roto mold tanks.
Roto Mold Tanks
Roto molding's unique fabrication makes it a great solution for custom tanks and other products. Produced with a thermoplastic manufacturing technique, roto mold tanks are great for water and chemical storage, diesel fuel storage, industrial storage, agriculture water storage, and more. Roto molding does not involve pressure like other manufacturing processes, so it's an inexpensive tank option. The size and shape of your tank is up to you, with unlimited possibilities.
Industrial Tanks




Vertical Tanks
VT with Containment
Cone Tanks- Open Cone Tanks
Open Tanks- Rectangular Tanks

Marine & Boat Tanks





Bow Shaped Water Tanks
Rectangular Water Tanks
Rounded Corner Open End Compartments
Square Corner Open Ended Compartments
Wedged Water Tanks
Battery Boxes

Marine Battery Boxes




Battery Box GRP-31-DE
Double Battery Box End X End GRP-31-DE
Double Batter Box Side X Side GRP-31-DS
Optima Battery Box GRP-34-SO

Agricultural Tanks




Vertical Tanks
VT with Containment
Cone Tanks
Open Cone Tanks
Open Tanks
Rectangular Tanks

Refuse Containers




Recreational Vehicle Tanks




Bottom Dump Waste Tanks
Bow Shaped Water Tanks
End Dump Holding Tanks
End Dump Holding Tanks with Rails
L-Shaped End Dump Holding Tanks
L-Shaped Side Dump Holding Tanks
L-Shaped Water Tanks
Recessed End Dump Holding Tanks
Recessed End Dump Holding Tanks with Rails
Recessed Side Dump Holding Tanks
Recessed Side Dump Holding Tanks with Rails
Side Dump Holding Tanks
Side Dump Holding Tanks with Rails
Water Tanks
Water Tanks with Rails
Wedge Shaped Water Tank
Fender Skirts

Recreational Vehicle Fender Skirts




Water Storage Tanks




Water Heater Pans




Vertical Tanks
VT with Containment
Cone Tanks- Open Cone Tanks
Open Tanks- Rectangular Tanks
What is Roto Molding
Roto molding is a process where heat melts and molds plastic resin inside a hollow, closed mold. The mold is placed in the cast with temperatures ranging from 260°C – 370°C. The mold is rotated until the inside is evenly coated with the polyethylene resin. The final product created is a smooth, watertight interior and exterior. Due to the centrifugal force created during rotation, the thickness of the walls are even throughout the tank. Once the plastic cools and hardens, it can be removed from the mold. Our strong tanks withstand impact or vibration during transportation and use, and they last longer than water tanks manufactured using the injection method.

Our Roto Mold Process
We provide a collaborative and efficient process for your custom roto-molding project. Our multi-step process gives careful attention to detail and precision.
We work closely with you to identify your specific tank needs; then create a detailed design prototype.
Once the design is approved, we create a stainless steel mold to meet all of the requirements outlined during the design process.
Once our mold meets our high quality standards, we schedule the project run on one of our state-of-the-art rotational molding machines.
After the tank fabrication is complete, we inspect the tank for any defects or imperfections. We ensure our strict quality control measures so your tank meets your exact specifications and adheres to our rigorous standards. The end result is a high-quality, durable, custom-designed tank that meets your specific project needs. Call us today to learn more about our custom roto-molding solutions.
Rotational Molding Applications
Rotational molding creates sturdy, leak proof solutions for a wide variety of applications. Roto mold tanks meet requirements for water recovery and treatment, making them ideal for water containment, water storage tanks and many other liquid storage.
There is also wide range of other uses for roto-molded products because the molds are customized for specific projects.  Portable barriers, carts and carriers, corner protection, fuel cells, sporting goods, and enclosures can also be made with rotational molding. Perfect for construction, farms, cities, industry, and other applications.
Common uses are:
| | |
| --- | --- |
| Rainwater Collection | Fuel Storage |
| Wastewater | Emergency |
| Chemical Processing | Irrigation |
| Agriculture and Farming | Composting |
| Construction Water Storage | Recreation |
| Spill Containment | Mining and Minerals |
| Construction Carts and Carriers | Environmental Services |
| Portable Traffic Barriers | Petroleum and Oil |
| Marine and Boating | Food and Beverage Industry |
| Defense and Military | Playground Equipment |
| Medical and Healthcare | Automotive Industry  and more |
For more information about Custom Roto Mold Tank, call today and talk with one of our tank specialist or contact us. Ask about our other custom tanks available to meet your specific needs. Call today!
Looking for more water storage? See our Bulk Storage Tank flyer to learn about all our water tank options.